Day 1: Public Symposium
John Crittenden
Director, Brook Byers Institute for Sustainable Systems
Hightower Chair of Civil and Environmental Engineering
Georgia Research Alliance Eminent Scholar of Sustainable Systems
Georgia Institute of Technology
Biosketch: Prof. John C. Crittenden is the director of the Brook Byers Institute for Sustainable Systems and a professor in the School of Civil and Environmental Engineering at the Georgia Institute of Technology. He holds the Hightower Chair and is a Georgia Research Alliance Eminent Scholar in Environmental Technologies. Prof. Crittenden received his Bachelor's in Chemical Engineering and his Master's and Ph.D. in Civil Engineering from the University of Michigan. Since 1998 he has been the Associate Editor of the journal Environmental Science and Technology. Prof. Crittenden was elected to the National Academy of Engineering in 2002 and the Chinese Academy of Engineering in 2013. He is the co-holder of five patents and the primary author of the text book, Water Treatment: Principles and Design, now in its third edition. He is the author more than 162 articles in refereed journal articles and more than 100 book chapters, reports, and symposia. Prof. Crittenden has been invited to speak and present around the world on sustainable urban systems and water treatment infrastructure.
Prof. Crittenden's current research focus is on sustainable urban urban infrastructure systems. His colleagues and he are conducting research on alternative energy technologies, sustainable materials, advanced modeling of urban systems, sustainable engineering pedagogy, and urban form and policy. He also conducts research in various water treatment technologies (e.g., membrane, nanofiltration, advanced oxidation processes, photocatalytic oxidation, adsorption, etc.) and energy harvesting technologies (photocatalytic water splitting and aqueous phase reforming of biomass).
Title: "Developing Sustainable Urban Infrastructure to Solve Gigaton Problems"
Abstract: Gigaton problems refer to those most severe problems challenging humanity, which can often be measured at the "gigaton (billion tons)" scale (Xu et al., 2010). For example, the annual world energy consumption is around 12 billion tons of oil equivalent (Gtoe), 80% of that from nonrenewable fossil fuels. The combustion of these fossil fuels emits approximately 29 billion tons (Gton) of CO2. In addition, the world uses more than 14 Gton of materials each year, only about 5% of which are renewable (Ashby, 2012). These gigaton problems call for solutions which can meet the gigaton scale, or gigaton solutions. While every incremental solution that attempts to solve these problems is welcome, the magnitude of these problems should always remain in perspective. The Gigaton problem was created by the billion people in the developed world. By 2050 the world population may reach 10 billion people. Ensuring a secure and safe world requires that all global citizens have sufficient access to the resources necessary to lead useful and productive lives. In other words, the lifestyles of those in the developing world must start to resemble the lifestyles of those in the developed world. Therefore the magnitude of the Gigaton problem will be multiplied by 10 unless new approaches are found.
---
Gary Libecap
Professor, Corporate Environmental Management
Bren School for Environmental Science & Management
University of California, Santa Barbara
Biosketch: Gary Libecap came to the Bren School in 2006 after more than twenty years at the University of Arizona, Tucson, where, in addition to teaching business, law, and economics, often in a natural resource context, he developed and directed the nation's top-ranked entrepreneurship program. His interdisciplinary focus and expertise in issues related to entrepreneurship and sustainable business practices led to his critical role in developing the Eco-Entrepreneurship focus, a joint venture between the Bren School and the School of Engineering. Professor Libecap's current research is focused on the legal, economic, and policy aspects of water allocation in the western United States. He has been president of the Economic History Association, the Western Economics Association International, and the International Society for the New Institutional Economics, and he holds high-level appointments at several top institutions around the country.
Title: Externalities, Crises and Collective Action
Abstract: Common pool resources (CPRs) potentially suffer from over exploitation that arise when parties do not bear the full costs of their actions. Fisheries are over harvested, oil pools and aquifers are over depleted, forests are over logged, and there are too many greenhouse gas (GHG) emissions. These CPR problems are addressed successfully and rapidly in some cases, but not in others. In general we often observe delay and incomplete mitigation. The high transaction costs of reaching agreement on collective action explains why this occurs. Mitigation imposes costs and provides benefits, but these costs and benefits are not proportionately distributed among the parties involved. Some bear more costs than benefits and some more benefits than costs and this leads to differential incentives to support collective action. Four factors contribute to varying assessment of the benefits and costs of mitigation: uncertainty, different perceptions of the problem and preferences for taking action, differences in information about the problem and the costs of addressing it, and questions of compliance. Three Nobel Prize Winners in Economics provide guidance regarding how to analyze these issues: Ronald Coase (1991), Elinor Ostrom (2009), and Oliver Williamson (2009). Smaller CPRs often have successful collective action: less uncertainty, similar preferences and perceptions, similar information, and compliance. Larger CPRs have a mixed record: more uncertainty, different preferences, perceptions and information, and limited compliance. The empirical record includes oil fields, aquifers, fisheries. Ironically, a crisis (collapse of the fish stock, plummeting primary oil production, jump in pumping costs and subsidence for groundwater) promotes collective action. A crisis narrows differences on the benefits and costs of taking action and lowers the transaction costs of collective action. This empirical record of the role of crises may be instructive for major global CPRs, where collective action has not been forthcoming: protection of highly-migratory fish stocks and controls of GHG emissions. Differences across countries in assessment of the benefits of mitigation and in willingness to bear costs have limited cross-national action. A crisis may be necessary to narrow international bargaining positions. This analysis suggests that preemptive collective mitigation is unlikely and that successful international efforts may require a crisis, despite its costs.
---
Sunshine Menezes
Executive Director, Metcalf Institute for Marine & Environmental Reporting
University of Rhode Island Graduate School of Oceanography
Biosketch: Sunshine Menezes fosters civic engagement and improved public understanding of science and the environment as executive director of the Metcalf Institute for Marine & Environmental Reporting at the University of Rhode Island Graduate School of Oceanography (URI GSO). She also serves as co-lead of the Deep Carbon Observatory's Engagement Team in her role as associate director for communication in the URI GSO Office of Marine Programs. Prior to her work to improve science and environmental news coverage with Metcalf Institute, Menezes worked on federal environmental and energy legislation in the office of U.S. Congressman Frank Pallone, Jr. as a National Oceanic and Atmospheric Administration Sea Grant John A. Knauss Marine Policy Fellow. Menezes then developed state-level environmental policy as a Research Associate for the URI Coastal Resources Center and Rhode Island Sea Grant, where she was the lead facilitator and author of an innovative urban coastal zone policy designed to balance environmental protection, public access, and development objectives for the metropolitan Providence, Rhode Island region.
Title: Tipping the Scales Toward Effective Science Communication
Abstract: Over the past two decades, the scientific community has become more interested and committed to communicating its research beyond a traditional academic audience. At the same time, social scientists have increasingly recognized the importance of measuring how science is shared with non-scientific audiences, and the effectiveness of these different approaches. This talk will explore the drivers for this growing interest in science communication and identify some of the people and organizations leading the way toward better engagement with diverse public audiences.
---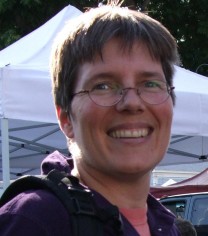 Susanne Moser
Susanne Moser Research and Consulting
Director and Principal Researcher, Santa Cruz, California
Biosketch: Susi is an action researcher whose work focuses on the societal impacts of, and responses to, climate change, and on how to communicate global warming in a way that facilitates the necessary social changes. Since leaving academia proper, she has been working as an independent researcher with states, communities, federal agencies, philanthropic organizations, NGOs and universities on projects related to adaptation to climate change, resilience, effective climate change communication and public engagement. She has addressed these issues in the coastal, forest, public health, conservation and urban context, where she applies Donella Meadow's leverage points concept and other systems thinking to her work.
Susi's work on communication for social change, climate change adaptation, and the interaction between science and policy continues to be deeply inspired by the truth-telling, courageous, and heart-filled modeling of Donella Meadows. She is trying to follow in those footsteps.
Title: Fate of the People: Tipping Toward Action
Abstract: The fate of the Earth, however dire it may look from here, is not a foregone conclusion. Nor can humans - who are an inextricable part of the Earth - extract themselves from that fate. This makes the fate of the Earth the fate of its people. Because of this inescapably linked fate, it is unlikely that people will continue forever with "business as usual" as if their actions didn't have a denigrating impact on the Earth system. In this early stage of changing the global environment, when many well-off and comfortable people, can still believe themselves immune to the changes they have wrought, it is easy to believe humans may "get away" with their environmentally damaging and socially exploitative ways. However, once things become far less benign, there is a good chance we will set in motion more serious responses to the changing environment and concurrent ecological and social impacts. Now, however, is the crucial time in which we decide how big of a problem we are creating for ourselves. This presentation aims to open a conversation about some possible pathways to deep, sustained, and effective climate action.
---
Claudia Pahl-Wostl
Professor and Senior Research Fellow, Stockholm Resilience Centre
Biosketch: Claudia Pahl-Wostl is professor for resources management, an endowed chair of the German Environmental Foundation, at the Institute for Environmental Systems Research in Osnabrück, Germany.
She is an internationally well known expert in adaptive management, water governance and participatory integrated assessment and agent based modeling. Before moving to USF Claudia Pahl-Wostl worked for more than ten years in the field of mathematical modeling., integrated assessment and human ecology at the Swiss Federal Institute for Science and Technology, Zürich and the Swiss Federal Institute for Aquatic Science and Technology, EAWAG, one of the leading water research institutes in Europe.
Title: Governing the Transformation towards Sustainability in the Water-Energy-Food Nexus
Abstract: Assuring the security of water, energy and food without jeopardizing the environment is an essential condition for sustainable development. Interdependencies between these sectors have often been neglected with the consequence that trade-offs rather than synergies have increased. Pushing human activities towards or even beyond the limits of environmental conditions has resulted in many regions in high vulnerability to environmental extremes, unsustainable land use patterns and degradation of ecosystems. Climate change and the concomitant increase of extreme weather events with massive consequences for human populations, economic assets and critical physical infrastructures have exposed weaknesses in current strategies to manage water and other resources. "Problems cannot be solved with the same mind set that created them" (Albert Einstein) A radical paradigm shift is required to overcome prevalent mechanistic and technocratic strategies, which have proven to be inadequate for responding to recent challenges, because they have neglected complexity and the human dimension.
The lecture will give an overview over major global trends in the nexus of water, energy and food and their regional manifestations. It will summarize our current understanding of sustainability transformations, elaborate on potential and limitations how such transformations can be governed and highlight challenges for policy, business and civil society at large.
---
Featured Keynote Speaker Andrew Revkin
Andrew Revkin
Author, Dot Earth blog, The New York Times
Senior Fellow for Environmental Understanding, Pace University
Biosketch: Andrew Revkin, the Senior Fellow for Environmental Understanding at Pace University, has been writing about environmental and social sustainability for more than three decades, from the Amazon to the White House to the North Pole, mainly for The New York Times. He has won the top awards in science journalism multiple times, along with a Guggenheim Fellowship. At Pace, he teaches courses in blogging, environmental communication and documentary film. He has written acclaimed books on global warming, the changing Arctic and the assault on the Amazon rain forest, as well as three book chapters on science communication.
Drawing on his experience with his Times blog, Dot Earth, which Time Magazine named one of the top 25 blogs in 2013, Revkin speaks to audiences around the world about paths to progress on a turbulent planet.
Revkin is also a performing songwriter, was a longtime accompanist for Pete Seeger and recently released his first album of original songs, which was hailed as a "tasty mix of roots goulash" on Jambands, an influential music website. Two films have been based on his work: "Rock Star" (Warner Brothers, 2001) and "The Burning Season" (HBO, 1994).
Twitter: @revkin @dotearth
Blog and bio: http://www.nytimes.com/dotearth
Title: Woe & Shame - Pursuing a Good Path in the Anthropocene
Abstract: Drawing on more than 30 years of experience covering global environmental challenges from the Amazon to the White House to the Arctic, prize-winning journalist, blogger and author Andrew Revkin will argue that humanity would benefit by moving beyond "woe is me" and "shame on you" reactions to this century's momentous environmental challenges. It's important to expose destructive behavior and grieve for ecological losses. But climate change and the global mashup of Anthropocene ecology are too big for conventional tools like laws, filters and fences.
The scope and drivers of these problems require a novel mix of urgency and patience, as well as a shift from goals that are unattainable numbers (350 parts per million, 2 degrees, and the like) to actions that build the capacities in individuals and societies that can bend curves of concern toward those goals.
His talk will build on ideas first laid out on Twitter in 2013:
http://dotearth.blogs.nytimes.com/2013/05/10/bend-stretch-reach-teach-reveal-reflect-rejoice-repeat/
---